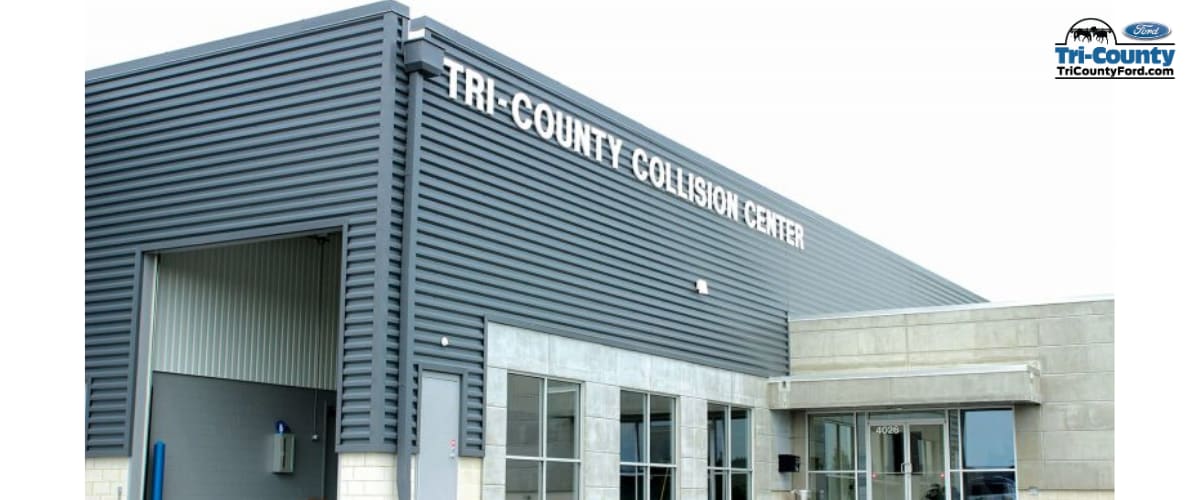 Contact Our Collision Center at 888-821-5719
While we hope that you are never in a collision or accident, we know that sometimes the worst does happen. If that's the case, then Tri-County Ford can offer you premier collision-repair services right here in Buckner, KY. 
It doesn't matter what make or model, foreign or domestic-we can handle all your collision work, including fleet vehicles. Our team will walk you through the entire repair process, from start to finish. We have state-of-the-art facilities, with ASE and I-Car Certified Technicians-all to return your vehicle back to OEM specifications. Additionally, we work with all insurance companies to assist you through your repair, making sure to always offer a fair and reasonable price. 
Tri-County Collision is also a Certified Aluminum Repair Facility. This certification includes additional aluminum-repair equipment and training for our technicians. As the automotive industry continues to progress with aluminum vehicles, this has put us on the cutting edge for repair of all aluminum-bodied vehicles.
To get in contact with our Collision team please call 
888-821-5719
or schedule service online:
While we try to accommodate your requested time, actual service scheduling may vary.
Before an accident:
Print this Collision Guide and keep it in your glove compartment. It has all the information you'll need to collect in case you're ever in an accident. Collision Guide
If original parts aren't included in your policy, talk to your agent about getting original parts coverage.
Make sure you have our dealership body shop contact information.
Be prepared and take extra precautions when seasons or driving habits change.
If you're in an accident:
Make sure everyone involved is OK, then call 911 to file a report.
Collect information using the Collision Guide
Arrange for a tow if your car isn't driveable.
Get in touch with our expert collision service technicians. Remember, you don't have to go to the shop your insurance company recommends so choose the techs who know your Ford.
Review the estimate and make sure original parts are listed as replacements.
Don't sign anything unless you are comfortable with the estimate.
Remember, the only way to keep it a Ford is to use original Ford Collision replacement parts for repairs.
If you are in an accident and need your vehicle towed to Tri-County Ford Collision Center, we can pay your tow bill and pass that charge on to the involved insurance company. In case of an accident, the following towing services can assist you:
-  For Oldham County or outlying counties, call La Grange Service Center: (502) 639-5636
-  For Jefferson/Bullitt Co. areas, call Suburban Wrecker: (502) 368-2508
Collecting Information in the Event of an Accident
If you're ever in an accident, be sure to collect this important information:   
Driver and Vehicle Info: 
The driver's name, phone number, and driver's license number with the expiration date
The vehicle owner's name along with the vehicle make, model, color, and year and the license plate number
The driver's insurance company information, including the phone number, policy number, agent's name and agent's phone number
The Damage Done:
To your vehicle and to the other vehicle
Record the towing company name    
The Accident Conditions:
The date, time, weather and road conditions, location of the accident, and any other additional details    
 The Witness Information:
Their names, addresses, and phone numbers
Also, be sure to use your phone to record the accident scene, including the weather and road conditions.
Why Choose Tri-County?
At Tri-County Ford, we're committed to providing outstanding customer service for the Buckner, KY community. Our goal is to make our guests repeat customers with our friendly and professional sales staff, knowledgeable finance experts, and experienced service technicians. Whether you're looking to buy or lease a new vehicle or are scheduling a maintenance appointment, Tri-County Ford has your back. We offer a comprehensive selection of new Ford models and budget-friendly used cars that are sure to catch your eye. And because we'll work with you on financing to discover your best payment option, you'll drive away knowing you got the best deal. 
Visit Tri-County Ford today to see first-hand our dedication to providing customers with the ultimate dealership experience.
---