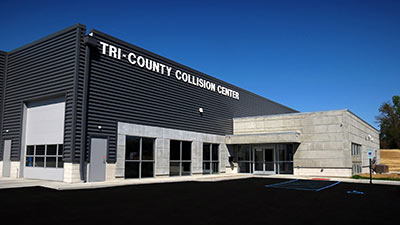 We hope you are never in a collision or accident- but if you are, we want to be your Collision Repair Center. 
    We will walk you through the entire repair process, from start-to-finish. We have state-of-the-art facilities, with ASE and I-Car Certified Technicians- all to return your vehicle back to OEM specifications.  And, all of this includes a Lifetime Warranty.
    It doesn't matter what make or model, foreign or domestic-  we can handle all your collision work, including fleet vehicles.  Additionally, we work with all insurance companies to assist you through your repair- and, at a fair and reasonable price.
     Tri-County Collision is also a Certified Aluminum Repair Facility.  This certification includes additional aluminum-repair equipment and training for our technicians. As the automotive industry continues to progress with aluminum vehicles, this has put us on the cutting edge for repair of all aluminum-bodied vehicles.
    If you are in an accident and need your vehicle towed to Tri-County Ford Collision Center, we can pay your tow bill and pass that charge on to the involved insurance company.
     In case of an accident, the following towing services can assist you:
-  For Oldham County or outlying counties, call La Grange Service Center: (502)639-5636
-  For Jefferson/Bullitt Co. areas, call Suburban Wrecker: (502) 368-2508
 At Tri-County Ford Collision, excellence is not just an option- it is a requirement.  
We look forward to serving you, too. Please call us for more information at 502-814-2845.
Safe travels to all!
---