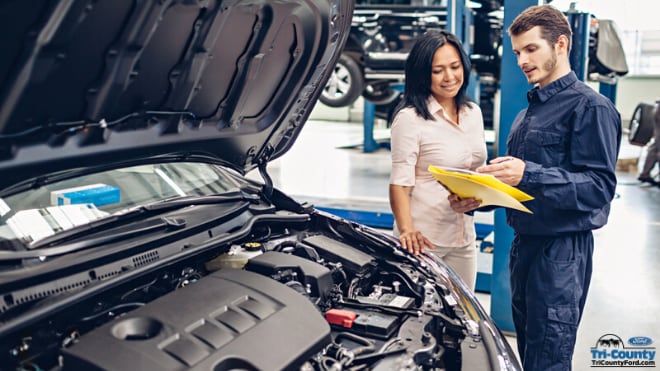 At Tri-County Ford, you'll get all the benefits of a smaller dealership without the drawbacks. To explain, we will personalize your experience and tailor our services to your individual needs; however, we will still return your car promptly...ready to take on the open highway. With award-winning Master Service Technicians at our disposal, you can be sure that your Ford gets fixed correctly...the first time. With incomparable Ford service specials and master technicians, you can't go wrong. Why choose another service center when you can have technicians trained in the ins-and-outs of all Ford models?
We Outshine the Competition
While local competitors continue to disappoint--incessant complaints regarding lack of return calls and long wait times--we continue to soar. Our service manager will always follow up with you in a timely manner and keep you abreast of any updates (additional repair needs and/or costs).
Are you tired of waiting at a service center for hours? Are you tired of receiving your car post-repairs with the radio blasting on your least favorite station? Hate being treated like just another customer? If so, you should service with Tri-County Ford. Our technicians are respectful; we will take care of your car properly and return it to you fixed...not with additional issues that were previously nonexistent. At Tri-County Ford near Louisville, you'll be treated like family. We'll always return your call. We will remember your name. We will work to keep your car running like-new for years to come.
The reasons are obvious. Servicing your car with Tri-County Ford is servicing your car with family. No matter who you are, you matter to us. Feel free to schedule Ford service online or contact our Ford service center near Louisville and La Grange at (877) 960-0017. We look forward to keeping you on the road.